I was in Buffalo over the weekend; the National Basketball League of Canada hosted a free agent player combine in West Seneca, and I drove out to assist them.  I also spent some time talking with new league commissioner David Magley (former Albany Patroon David Magley) about various things and going forward with the NBL's 2015-16 season.  Wow.  Five years in this NBL.
The combine went very well, and there were some diamonds among all the gems who arrived and participated.  On the way home, though, I stopped at a camera store in downtown Buffalo… rumor had it that they possessed a used camera lens that would help me for this coming Sunday's total lunar eclipse photo.
The lens was a Nikon 200-600mm f/9.5 telephoto lens.  A description of same can be found at this link.  Cameraquest.com has another description of the lens.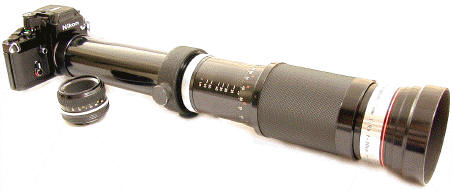 "How much?"  I asked.
"$299.99," said the cashier.
"Let me see it."
He handed me the lens, then went to talk to another customer.
Hmm… 600 millimeters.  And it has a tripod mount.  I could aim this bad boy at the moon and get razor-sharp pictures of the eclipse.  This has potential.  I wonder if the price is negotiable.
Then it hit me.  Chuck… you have GAS.
And no, I don't mean "gas" as in I have to go find the lavatory.
And I don't mean "gas" as in unleaded premium.
"GAS" is a photography term for "Gear Acquisition Syndrome."  As in … you want more gear, and you never have enough.  You never have enough cameras, you never have enough lenses, you never have enough doodads.
And I thought to myself.  I would be spending $300 on a camera lens that I might use for only one night.  And I already have the Rokinon mirror lens with the 2x teleconverter, which will give me 1000mm of visual power.  And I've already achieved several photos of the moon with this device.
I thought some more.  What would I use this lens for after next Sunday?  Did I plan on carrying this big bulky lens into the woods to photograph the wildlife?  Would I hire myself out as a private investigator and shoot through bedroom windows, looking for cheating spouses?
I picked the lens up.  Damn it's heavy.  I just got rid of a super-heavy manual-focus lens a couple of months ago.  Did I really need another one?
Gear Acquisition Syndrome is sinking in.
But I have to be strong.
And in the end… I called the cashier over.
"Please put this back on the shelf," I said.  "I'm sorry to have wasted your time."
"It's okay," the man said.  "We can negotiate for a better price if you like."
"No, that's okay."
But as I walked toward the exit, I saw something else.  A lens-pen set.  Lens-pens are little cloth-covered styli that will clean your lenses and filters.
Okay, it's not a big-as-life telephoto lens… but a few little lens cleaners wouldn't hurt.  And I did feel bad about wasting the cashier's time previously on letting me see the old lens.
One purchase later, and the lens-pen set was mine.  One pen for lenses, one pen for lens filters, and one pen for the viewfinder.
Okay, so I have GAS.  But at least I'm trying to control it.  #hahahahaha