Wow.  Trivia Bowl XII, the Capital District's competition of the best bar and tavern trivia teams.  And with the team list whittled down to 30 squads, this would not be a game for the weak of heart.
And for my Street Academy team… I had some last-minute scheduling cancellations.  I can't fault anyone for that – but I need to have a good solid core of trivia players on my team.  Solo player trivia team is great when it's the weekday bar game, but for these monster championships… I need to pick up my game.  Everybody else will.
And with several members of the two-time Trivia Bowl championship team Stern Fans out of town… I asked the remaining members, and they agreed, to join my team for the afternoon.  So Trevor and Maria from Stern Fans, along with Jeff and Danielle from the old team Get That Poison Out, joined Street Academy for Trivia Bowl XII.
Check that.  Stern Academy.  That's right.  And yes, when the team name was mentioned at the start of Trivia Bowl, there were plenty of boos and jeers and catcalls.  Come on now, it's Trivia Bowl, what would you expect?
So now you would like to play along with us.  Get your pads and pencils ready, and play along.  You can skip two questions, and you can have a double-chance play on a question – write down two answers, get it right, win the points, get it wrong, lose twice the points.  Ready?
Here's round 1.
(2 pts) Starting with the merger year and Super Bowl V, which conference has more Super Bowl wins?
(4 pts) What American rock band played their final concert on New Year's Eve 2015 in Los Angeles?
(6 pts) Born in Buffalo, New York, what funk and soul musician would have turned 68 on Monday?
(8 pts) On this date in 1788, what became the sixth state to ratify the U.S. Constitution?
(10 pts) In 1971, an Ohio barbershop owner introduced what game to the world?
We nailed the first four questions – it took some math to remember all the NFC teams that won the Super Bowl (24 versus 21), Trevor and Jeff both knew the band that played its last show was Motley Crue, I knew Rick James and Massachusetts…
But the 10-pointer was a stumper.  We initially thought the answer was Pong, but on the way to hand off the slip, I scratched out the word "Pong" on the slip and scribbled in a skip.  Good idea.  The correct answer was the game of Uno.  You know, that game that causes more fights among friends than does any other card game?
End of the first quarter.  We were tied with some team named Poseidon's Raging Trident for the lead with 20 points.  Good start for Street – er, Stern Academy!
All right.  Round two.  Ready?  Here we go.
(2 pts) What southern city hosted the 2016 National Hockey League All-Star Game?
(4 pts) How many Best Comedy Emmy Awards did the show Modern Family win in a row?
(6 pts) The New England Patriots have played in five consecutive AFC championship games in a row; who else played in five consecutive AFC championship games in a row, in the 1970's?
(8 pts – double bonus) What two states are the southern and western borders of Montana?
(10 pts) What Japanese carmaker's website states that its name is taken from the "God of light, intelligence and wisdom?"
We got Nashville and five Emmy Awards in a row.  But we stumbled on the six-pointer; we went with the Pittsburgh Steelers and apparently it was the Oakland Raiders that reached five consecutive AFC championship games… losing four of them in a row.  We hit the double bonus question easily (Idaho and Wyoming), and then came the car question.
We wrote down every Japanese carmaker we could think of – Honda, Toyota, Nissan – and eventually we went with Mitsubishi.
Nope.  And I should have known this, as an antique collector, the car company name was also used by an American electrical company to promote its brand of light bulbs.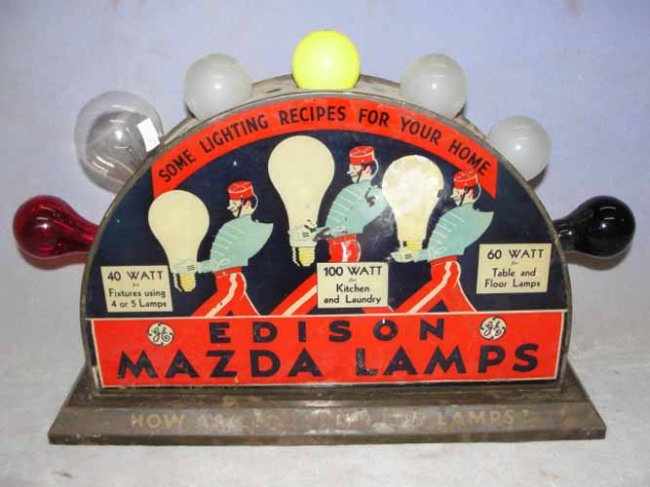 Mazda.  Damn it, it was Mazda.
End of the half, we were in seventh place and looking up at the combined team of Blue Riders on Route 106.  Yeah, they've led before.  And they've crashed and burned before.
At the halftime break, we received some news from Trivia Nights Live host Kevin Baker; he had started a new new online trivia app, TriviaJoint.com, and invited the players and teams to join the app as beta testers.  Trust me, this will be a fun trivia app, and I hope that it does well.
But now it's time to return to our own personal game.  Ready?  Set?  Here we go.
(2 pts) What college did Bill Cosby attend?
(4 pts) Today is Babe Ruth's birthday.  Where was he born?
(6 pts) In January 2015, a British spacecraft called Beagle II was found on the surface of what planet, 11 years after it was lost trying to get there?
(8 pts – quadruple bonus) Name the last four men to be named People Magazine's Sexiest Man Alive.
(10 pts) In the film Reservoir Dogs, the opening scene has the bad guys trying to interpret what 1980's pop hit?
Again, we nailed the first two questions easily – Temple and Baltimore – and we used our double-bonus chance by saying Mars and Venus (it was Mars).
But we only correctly named two of the last four Sexiest Men Alive (Chris Hemsworth and Adam Levine), because apparently it WASN'T Bradley Cooper or Ryan Gosling, it was David Beckham and Channing Tatum.  Yeah, I know, I know, Baker goes to this question a lot, I should have these damn Sexiest Men Alive memorized.  My bad.
And even though we all saw Reservoir Dogs at one time or another, we could not come up with the 80's song.  Handed in another skip.  It was Madonna's "Like a Virgin."
Three quarters down, we're now in eighth place, 32 points away from the team leaders, a squad called My Wife the Tramp.
Now we had to seriously hunker down.  I said to my team, "We just have to get these answers right, if we do that, we're still in a very good position to win the game.  If every team above us gets these answers right as well, we'll still be in eighth place with a chance to win.  All we need to do is play this like the final touchdown drive, and just move the chains."
Ah, the "move the chains" strategy.
Fourth quarter.
(4 pts) What U.S. President would have turned 105 in 2016?
(6 pts) What pro wrestling legend won the 1992 Royal Rumble in Albany, and with that, the heavyweight championship?
(8 pts – triple bonus) For what three films did Jack Nicholson win two Best Actor Oscars and a Best Supporting Actor Oscar?
(10 pts) What quarterback has the record for most touchdown passes in a single Super Bowl, with six?
I knew Ronald Reagan was the first answer.  Move the chains.
Everyone on our team knew that the wrestling heavyweight championship belt winner was Ric Flair.  Move those chains.
I nailed the three Jack Nicholson Oscar wins – One Flew Over the Cuckoo's Nest, As Good as It Gets and Terms of Endearment.  MOVE THOSE CHAINS.
And the 10-pointer?  Trevor and Jeff both confirmed that the answer was Steve Young in Super Bowl XXIX.
Which put the Stern Fans – er, Stern Academy in a tie for FOURTH PLACE at 98 points.  My Wife The Tramp still had the lead at 122 points.
Final question.  Category – American Idols.
Now this would be the deciding factor on this merged team – Street Academy would bet everything on the final question; Stern Fans would bet two points and hope everyone else falls by the wayside.
We examined the options.  This wasn't a safe category to bet safe points, not with 27 other teams still in the running (three teams finished with negative points, so their day was done).
We went with 98 points.  All we have to do is get the answer right… and hope three other teams either missed the answer or bet safe bets.
"What eventual American Idol winner would make an uncredited appearance as a dancer on the short-lived Fox series 'That 80's Show'?"
The five of us looked at each other.  We had to figure out when That 80's Show aired, and then figure out who would have been around at that time prior to winning American Idol.
We initially said Kelly Clarkson.  No.  Tossed that answer away quickly.
Ruben Studdard?  Naw.
Carrie Underwood?  Doubtful.
Taylor Hicks?  Forget that.
We eventually settled on Fantasia Barrino, based on a few factors – she had family members that were part of the R&B group K-Ci and Jojo, surmising that maybe K-Ci and Jojo appeared on the show and Fantasia was part of the episode.  But we had to make an educated guess.
We handed in the slip.
Most of the teams wrote down Fantasia or Carrie Underwood; a few people wrote Taylor Hicks; some other teams wrote down Kellie Pickler or Katharine McPhee, not remembering that the question referenced an American Idol winner.
My Wife the Tramp – who had the final lead with 122 points – bet zero points.  They had to hope that every other team would wipe out.
And the answer … was Kelly Clarkson.
Kelly Clarkson?
Holy 40-year-old virgin, Batman… did anybody say Kelly Clarkson?
We didn't say Kelly Clarkson.
Nobody at any table near us said Kelly Clarkson.
But one team DID say Kelly Clarkson.
One team only.
And one team bet just enough to finish the game at 123 points – surpassing My Wife The Tramp's safe bet.
That team… was a squad that used to play at the Elbo Room $1000 tournaments, and now they play on Wednesday nights at Graney's Stout…
It's a team of newspaper reporters, whose team leader covers state government for the Gannett News Service.  Yes, I said Gannett in a Hearst-owned blog portal.
That team… and the new Trivia Bowl champion… is The Fist.
As I went over to congratulate the team, I could tell they were excited and overwhelmed by the win. As I shook the hand of Jon Campbell, the team captain, he told me, "I kid you not, Chuck, last week I went down a Wikipedia rabbit hole and I saw that news about Kelly Clarkson and the TV show."
"Doesn't matter," I said, "You played the game well and you won, congratulations and welcome to the realm of champions."
Yeah, this has to be satisfying for The Fist – this squad has come ever-so-close to winning this championship in the past, only to miss a question in the finals and watch as someone else claimed the trophy. Now the championship chalice is theirs. Much congratulations to the Fist team for their success.
And much thanks to my team of Trevor and Maria, Jeff and Danielle, as the once-in-a-lifetime Stern Academy did quite well for itself. Sure, we whiffed on the final, but we had the best showing for this team in ages.
And it just means that the countdown is now on for Trivia Bowl XIII.
See everybody then.