When your first name is one of the most common Anglo-Saxon names out there, and your last name is one of the ten most common surnames in America, there's bound to be a few more Chuck Millers out there than one would expect.   There's a professional riding lawn mower racer with that name; there's a 1950's boogie piano player who had a Top 10 hit with "The House of Blue Lights"; there's a yoga instructor and a lawyer and a stand-up comedian and lots of others.  Heck, I've even found another person who, like myself, uses the name "Chuck the Writer" for his online presence.
So how do I top this?
I top it this way.
Recently I acquired the T-shirt you see in this blog post.  Amazing what you can find on the World Wide Web these days.
So who is this "Chuck Miller" and how did he merit a custom-made T-shirt?
Apparently that Chuck Miller is this Chuck Miller.  Chargin' Chuck Miller.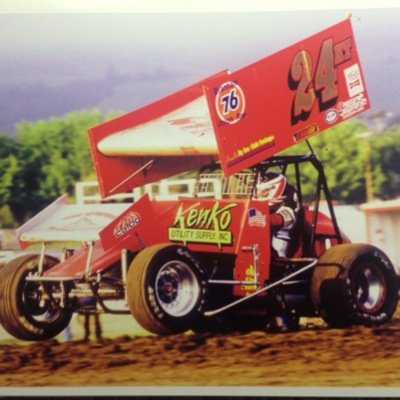 Chargin' Chuck Miller was one of the top stars on the West Coast sprint car tracks, and his Kenko Utilities 24KT car won many races and generated a legion of dirt track fans.
He drove mostly in California, I have reports of him dominating tracks in San Jose and Hanford and Chico.
There isn't much else out there that I was able to find; trying to Google "Chuck Miller" turns into an adventure in Google-vaining.  And the few reports I did find were that Chuck Miller the sprint car racer could hold his own against any other roof-winged driver in the field.
At the San Jose Fairgrounds, he won the 1993 and 1994 Johnny Key Classic, a race that pays tribute to a legendary sprint car driver from the 1950's.  He also won the Lloyd Beard Classic three times (1984, 1994, 1995).  He won the 1986 and 1988 sprint car championships at Baylands Raceway Park in Fremont.  And he picked up four wins in the Golden State / King of the West 410 Sprint Car series, which is still in existence today.
He was a popular enough racer at the time that, in fact, there were T-shirts made of his car – including the shirt I currently own, which apparently has Miller driving the #5 Danell Brothers Farms car.  The artwork for the T-shirt is dated 1991.
I don't know much else about Chargin' Chuck Miller, but I am glad that I've got this T-shirt.  I certainly would have loved to see him race, but I haven't come across any video footage from my YouTube searches.
That being said, I at least have this cool T-shirt.
That's nice, too.