I know it's been a while, but yesterday I decided to purchase something special for myself.
Unfortunately, any plans of wearing this item outside today will have to wait.
Let me explain.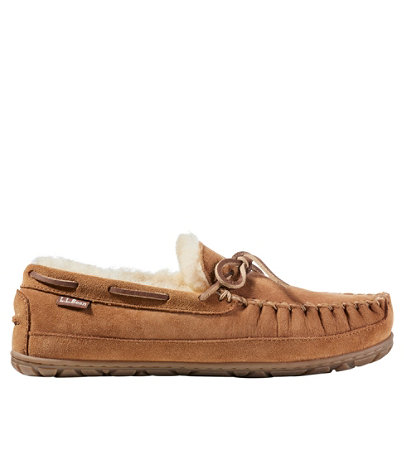 Before my foot injury last year, I had thought of purchasing some "wicked good" moccasins from L.L. Bean's retail store in Colonie Center.
Would you look at that?  Doesn't it look super-comfortable?
Yeah, but a broken foot will keep you from walking around in such comfort.
So it's a year later, and I have a little extra cash on hand.  One parking space at Colonie Center later, and I found the last pair of men's "wicked good" slippers – size 10 – with that super-soft sheepskin interior.
Yeah, I'm gonna feel super-comfortable walking around in these.
I bought the moccasins – along with two flannel shirts – and drove home.  Hmm.  There's a snowflake or two on my car.
No matter.  It's not time for a White Christmas yet.
This morning, I woke up.  Ready to write my blog, and spend the day doing Chuck stuff.  Relaxing and strutting around the neighborhood in my brand new kicks.
Open the door and –
Where the hell did all this snow come from?  There's an igloo where my car is parked.  It's like somebody had the song "Let it Snow! Let it Snow! Let it Snow!" on repeat, alternating it with "Winter Wonderland" and a couple of other chilly precipitation classics.
And I don't know how water-repellent these moccasins are …
But I'm not wearing them in the snow.  That's the wrong L.L. Bean footwear for the task.
Okay … if nothing else, I guess I'll wear these bad boys around the apartment while I clean and tidy the place.
Bummer … I really wanted to take a walk around the neighborhood and try out these comfy slippers.
Probably just as well… with my luck, I'd probably get them soaked with winter snow, or maybe slip and fall on some ice and break my other foot in the process.  And that wouldn't be merry or Christmasy.
Still … they are nice moccasins.
And I am aloowed to treat myself to something nice once in a while, aren't I?