I'm not going to lie to you. I enjoy the fine art of professional wrestling. Part sport, part ballet, part storytelling, all action.
At one point, the wrestling team that I most enjoyed watching were the IIconics (yes, it's with two I's), the team of Australian wrestlers Peyton Royce and Billie Kay. However, some diseased mind in the office of WWE decided that the IIconics needed to split up – this person deserves coal in his Christmas stocking for suggesting such a thing – and lo and behold, the IIconics were sent to different wrestling shows.
Peyton Royce remained on the "Monday Night Raw" brand, where she's now stuck in a new tag team with the green-as-grass Lacey Evans.
Meanwhile, Billie Kay has been shuttled over to the Friday Night Smackdown brand, where she has developed an interesting gimmick.
Whenever she appears backstage, she hands someone what appears to be a professional photo headshot, with a printed resume on the back. As if she needed to prove herself over and over again. She addresses the recipient by using a professional surname, then shows off her headshot and her resume.
It's a silly gimmick.
And it's funny as hell.
Even to the point where she addresses Angelo Dawkins and Montez Ford, also known as the tag team the Street Profits, by the honorarium "Mr. Profits," this is just too funny for words.
Heck, she's having fun with this. Even in a promotional video for the retirement of the Undertaker, Billie's offering to replace him as being, what, the Down Under Taker? 😀
This gets better. On last Friday night's episode of WWE SmackDown!, the bogan beauty stopped by the announcing desk, offering her resume and headshot to commentators Michael Cole and Corey Graves.
Now this has to be a joke, right? Or as Billie Kay would say, "You gotta be jokin' me."
No, seriously, that piece of paper is a real resume. With achievements and notations and everything.
I am not kidding.
Yeah, that's a real working resume, full of accomplishments and whatnot.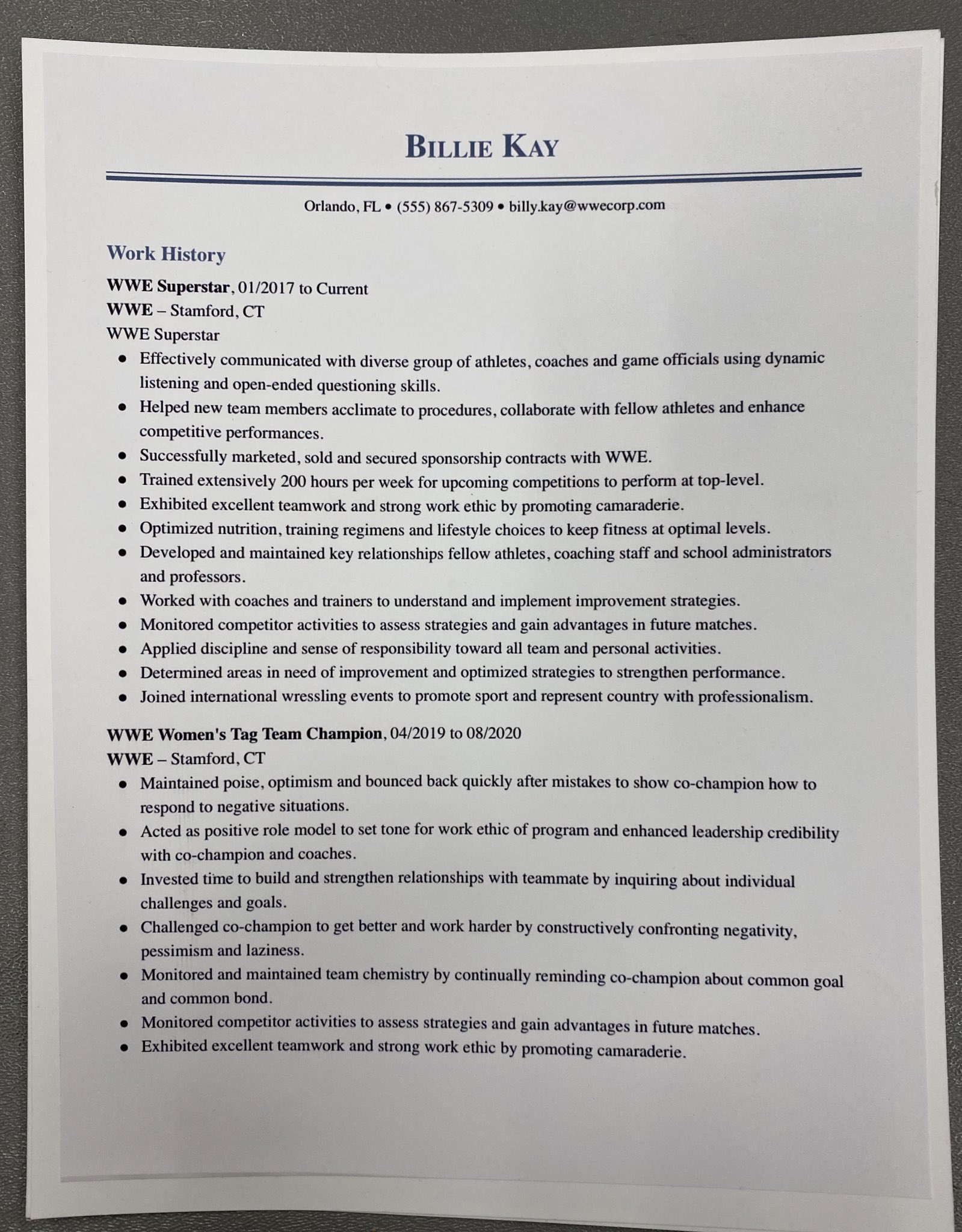 So let's see here. There's a phone number, although if you try to call it, someone named "Jenny" might answer. 😀
There's also a deep amount of resume-padding in this resume, including
"Effectively communicated with diverse group of athletes, coaches and game officials using dynamic listening and open-ended questioning skills."
I think that's resume-speak for "I can talk."
"Trained extensively 200 hours per week for upcoming competitions to perform at top-level."
Damn, she's training more hours per week than there ARE hours in a week!
"Joined international wressling[sic] events to promote sport and represent country with professionalism."
Hey, what's a resume if there's not at least one typo?
She also credits herself as a tag-team champion from April 2019 to August 2020, which is about a year short of the IIconics' actual reign (April-August 2019). And there's a tiny bit of shade aimed at Peyton Royce in the superlatives in that category as well.
"Maintained poise, optimism and bounced back quickly after mistakes to show co-champion how to respond to negative situations."
"Challenged co-champion to get better and work harder by constructively confronting negativity, pessimism and laziness."
"Monitored and maintained team chemistry by continually reminding co-champion about common goal and common bond."
I'm just saying this. The IIconics may have split up due to the WWE thinking that Peyton Royce is the better wrestler, but I'm thinking the bigger winner in this might be Billie Kay, in that she's taking the "we're just dumping you on the other wrestling show" and turning it into gold.
See, there are superstars in WWE who have found a way to make something out of nothing. Heck, at one point, three different pro wrestlers, bound only by the color of their skin, found a way to create The New Day, one of the most popular tag teams in WWE history, by simply taking what little they were given and turning it into monster popularity.
And if that doesn't work, maybe Billie can drop off that head shot and resume the next time she also drops the "Boyfriend Stealer" finishing move on her opponent.