I've been binge-watching the HBO series The White Lotus, and it's quite a fun show. But while watching the program, I had a nice, pleasant surprise.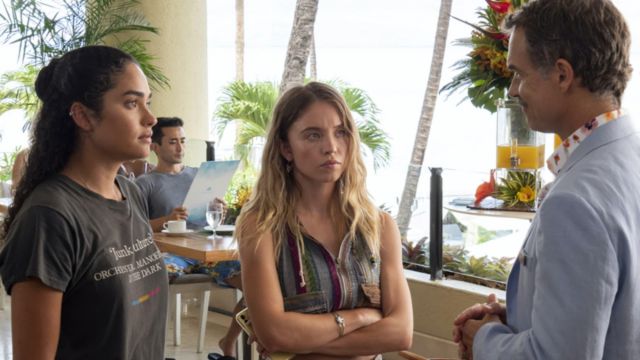 Look at this image. See the girl on the left? She's wearing – and I'm not kidding – an Orchestral Manoeuvres in the Dark T-shirt. Specifically, one that references OMD's album Junk Culture, an album I once owned as an import record in college. Wow.
First off, this character can't have been more than 18 in the series. And she's rocking an OMD shirt? I mean, I get cultural references and all, but OMD? Are we 100% sure about this?
Look, I get it – there are times when TV shows reference something, and it might be a plot point that gets revealed five episodes later. Trust me. Breaking Bad had references in the first season that weren't acted upon until the final episode.
Not that I'm complaining. I'm really not. OMD is super-cool. It's one of those bands that you discover by accident, and then the minute you hear them, you're like, "Shit, these guys are incredible."
I shall demonstrate. I mean, what band in their right mind would write a song about the bomb that was dropped on Hiroshima in 1945, and turn it into a poppy dance track?
And then follow it up with not one song about French saint and inspirational figure Joan of Arc…
But then follow it up with a SECOND song about Joan of Arc?
Essentially, these guys were synth-pop's version of art-rock – poppy enough to blend in with Human League or Duran Duran, but edgy enough to be in the same conversation with Ultravox and New Order.
They actually played a concert at JB's Theater in Albany back in 1985, I got to see them, and they even autographed my 10-inch pressing of the song "Souvenir," the version that contains an additional bonus lyric that didn't appear on the 45 or on the LP. This is important if you're an OMD fan.
Remember what I said about OMD putting together back-to-back songs about historical figures and events? Yeah, that would probably explain their big dance hit "Tesla Girls." I'm not sure Nikolai would have approved, but then again, maybe he did. 😀
Now here's the thing. I've shown you OMD music videos that were part of my college radio soundtrack. But by the time OMD made it to the main pop culture world, their music was the soundtrack of 1980's teen romance movies. I mean, shouldn't this be blasting out of a boom box outside of some girl's window?
And by this time, OMD had found a comfortable, hitmaking groove, crafting pop melodies with romantic lyrics. Really good stuff.
Again … more 80's pop music. Forget about historical figures, now we're writing about the vagueness of love itself.
Okay, one more OMD love song. This time, they found a way to mix two 1970's soul grooves – Johnny Bristol's "Hang In There, Baby" with the Love Unlimited Orchestra's "Love's Theme." So incredible.
Yeah, so if you're going to have a one-off T-shirt reference to a classic 80's band …
Again, not complaining. Now maybe if someone could get OMD together and have another US tour?
I'd be super-happy with that.