This came up in my Twitter feed last night.
First, I'm going to say this. If you have received the COVID-19 vaccine, fantastic. I'm proud of you. If you've gotten your booster shot, I'm clapping with both hands.
But if you need some … well … coaxing to get the Fauci Ouchie…
This might give you some impetus.
In Las Vegas, one of the more popular local businesses will be hosting a COVID-19 vaccine clinic. This Tuesday, from 10:00 a.m. to 2:00 p.m. local time, get your butt down to 6007 Dean Martin Drive, and roll up your sleeve.
Oh, and if you're wondering what business resides at 6007 Dean Martin Drive …
Let me help.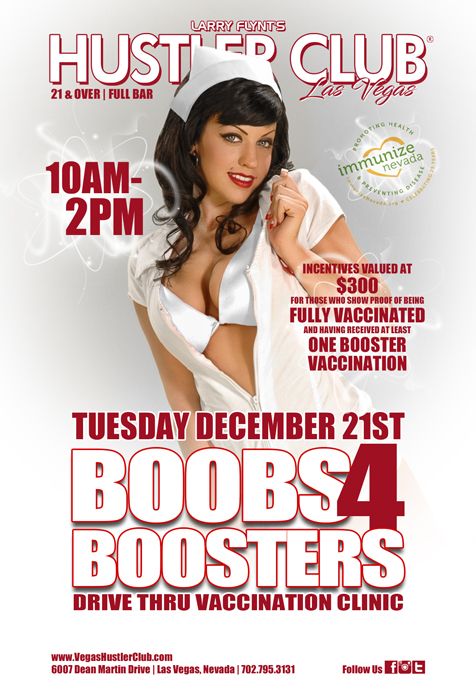 Yeppers. You can get your COVID-19 vaccination at Larry Flynt's Hustler Club. No word on if you can also pick up a couple of little blue miracles while you're there, but hey, your mileage may vary.,
I mean, what is it going to take for you to get vaxxed up? Do you need some nubile exotic dancer to do her best gymnastic routine against the firepole while you roll up your sleeve and say, "Give it to me, mistress, I can take it!"
Okay, now let's say you're already triple-Pfizered. What do you do then? Well, apparently Larry Flynt's Hustler Club is offering up to $300 in incentives for the fully vaxxed. Wow. $300. That's gotta be, what, two lap dances?
Okay. Full disclosure here. At one point during my freelancing career, I once wrote for Hustler magazine. Okay, it was one article. A little article, maybe three pages, on X-rated record album cover art. I still joke that Larry Flynt paid me $1,000 to NOT take off my clothes.
But seriously, whatever it takes for you to get the jab and stay healthy, especially with the damn Omicron variant running through the country, if it means getting some bare skin in exchange for a bare arm, then do it.
And before you think you're going to recreate your favorite moments from Tell Them Johnny Wadd is Here, just remember. This is a strip club. This is not a brothel. Brothels are legal in Nevada, but they're not legal in cities with a population of more than 700,000 residents. You know what city has more than 700,000 residents in it? Las Vegas.
So make sure you get your shot. Against COVID. Shots for other things like chlamydia, syphilis, gonorrhea, and other nasty problems … the penicillin clinic is over on Fremont Street.